About
DataGen
Datagen makes it possible to insert meaningful testdata into any database you can connect to with ADO.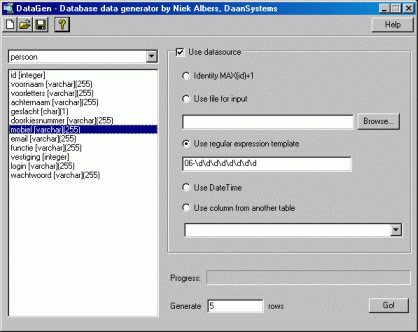 Features

· Support for MS-SQL Server, Oracle, MySQL, PostgreSQL etc. (any ODBC driver)
· Insert Identity columns
· Insert random data from text files
· DataGen comes with example datafiles for names, cities, streets, email addresses and companies in several languages.
· Insert regular expression templates
· Insert dates
· Insert random values from columns from other tables
· Save projects
· Select number of rows to be inserted
Download

datagen_setup.exe (1579 KB) 19.Jul.2002 - DataGen DataGen build 0.9 installation package for Windows ME/NT/2K/XP/Vista.
Purchase


Buy DataGen online for US$25 (Secure Site).